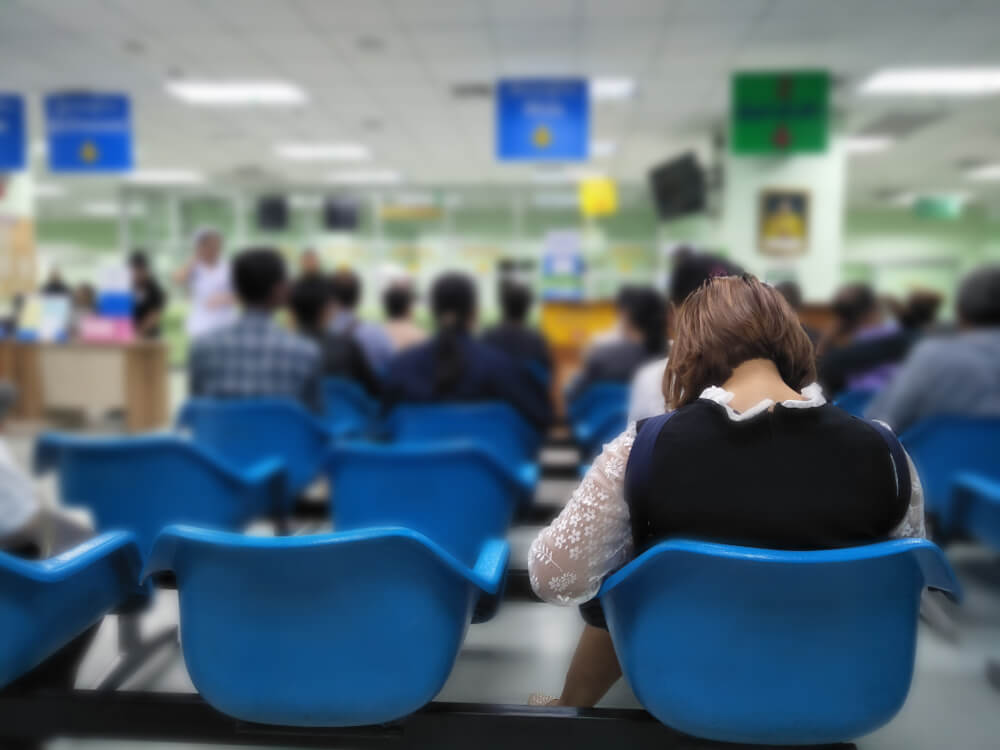 If you're struggling with obesity in the UK, many people naturally assume that NHS weight loss surgery is the answer to their problems. However, all too often, NHS weight loss surgery isn't the smooth process that it initially appears to be and can leave patients dissatisfied or unseen.
Patients up and down the country report a host of issues from difficulty in getting their GP to take their issues seriously to incredibly long waiting times at their local hospital. Unfortunately, for many extremely overweight people in the UK, NHS weight loss surgery simply isn't on the cards. Let's take a look at some of the reasons why the NHS isn't always an accessible site for surgery and why patients choose to turn to world-class facilities like our Weight Loss Riga in Riga, Latvia.
How Available is NHS Weight Loss Surgery?
Weight loss procedures are available on the NHS for those who meet the eligibility criteria, however accessing those procedures may not always be as easy as it should be. A recent report released in the British Medical Journal showed that, although the NHS really should be carrying out around 50,000 bariatric operations annually, in fact, the number of procedures being carried out on the NHS is falling. In the period from 2012 to 2015, the number of bariatric operations carried out on NHS patients in the UK dropped by 31% - down to 6032 from 8794. As a result, less than 1% of patients who could see great benefits from this surgery are actually treated.
The UK Obesity Crisis
The UK now has Europe's second highest obesity rate, yet is lagging far behind other European countries in terms of bariatric procedure provision. Currently, the UK is ranking at number 13 out of 17 for the number of surgeries carried out to treat obesity – and this is depressing news for anyone who is hoping to address their problem on the NHS.
Bariatric surgery has been shown to be effective in helping around a third of morbidly obese people, not only reducing their weight but also helping to control other weight-related health problems like type II diabetes which present their own dangers. Yet, while 2.6 million extremely overweight people in the UK could benefit from these surgical procedures, the NHS is performing very poorly in comparison with Europe's other healthcare systems.
What Is The Criteria For NHS Weight Loss Surgery?
There are varying criteria for bariatric surgery on the NHS across the UK, although all GPs should be following the NICE (National Institute For Health & Care Excellence) guidelines for recommendation for surgery on the NHS.
The eligibility criteria specifies:
Your BMI must be 40 or over or you must have a BMI of 35-40 together with a severe weight-related health condition. (Here at WeightLossRiga, we take on patients in with a BMI of 30 or higher, taking into consideration our patients' needs and understanding of their own bodies.)
You must have tried a wide range of other methods of losing weight like exercising and dieting but failed to lose weight or maintain that weight loss.
You must agree to attending long-term follow-up appointments and to making healthy changes in your lifestyle.
You must be healthy and fit enough to undergo surgery under a general anaesthetic.
If you have a BMI of over 50, you may be eligible for NHS weight loss surgery without the need to have tried any other methods of weight loss first. Also, patients who have recently been diagnosed with Type II Diabetes should be assessed for surgery even if they have a BMI of under 35, especially if they are of South Asian heritage.
This criteria is quite stringent in itself. However, there are a number of other problems which face NHS patients seeking weight loss surgery. Here are just three reasons why weight loss surgery on the NHS may not be a possibility for you.
1. Overly Restrictive NHS Commissioning Groups
A recent FOI (Freedom of Information) request was recently made to CCGs (NHS Commissioning Groups) which showed that a number of them had adopted a policy of attempting to ration NHS weight loss surgery to even the most obese patients, thereby ignoring the official NICE guidelines on eligibility for surgery. As a result, obese and significantly overweight patients are struggling to get the treatment that they need on the NHS.
Additional criteria has been put in place by some CCGs which require patients to have a BMI of 50 or over (against the NICE guidelines outlined above), thus have the counterintuitive effect of actually encouraging patients to gain weight in order to get the surgery they need. Others demand that patients prove that they've quit smoking before recommending them for bariatric procedures due to a policy of only offering surgery to non-smokers.
With such restrictive policies in place, it is much harder than it should be for even the most obese patients to get the help they require.
2. Limited NHS Availability In Certain Areas
NHS resources are consistently failing to meet the demand for weight loss surgery and there is severe rationing of procedures nationwide. Certain parts of the country are especially affected by this rationing, and some areas carry out very few operations of this nature.
Only around 1% of the population are able to benefit from NHS weight loss surgery and under 10,000 people are able to have a bariatric procedure on the NHS annually. This doesn't compare very favourably with the UK's obesity figures which stand at around 2.6 million people.
As an added complication, patients often find it difficult to approach their GP in the first place. In some areas, the difficulty of getting a doctor's appointment can present a major barrier that can deter people from seeking help in the first place. Then, even when patients can see their doctor, they unfortunately often find that they don't get the help they need.
Some GPs aren't especially sympathetic or understanding about the needs of obese patients, and often suggest dieting and exercise measures which patients have already tried. Some doctors refer patients to dieticians who then prove to be unhelpful in turn.
Most patients are offered a range of alternative interventions instead of being referred to a surgeon. Some are given prescription medications, some are given slimming group vouchers while others are prescribed free exercise classes. This is due to the fact that the NICE guidelines require all primary care interventions to be fully exhausted before a referral for surgery can be made. Unfortunately, for many people, managing their prescription medications, attending exercise classes or attending slimming classes can be difficult, especially when patients are extremely overweight, have erratic eating patterns and have co-morbidities.
Some interventions also come with attached weight loss targets which frustrate and depress patients even more, deterring them from seeking further help.
Recent surveys among severely obese patients revealed that very few GPs proactively suggest weight loss surgery referral, even though they met all the NICE guidelines. Since many patients are reluctant or uncomfortable to raise the topic of surgery referral themselves, this is a major barrier to those who could benefit greatly from bariatric surgical procedures.
3. Long NHS Waiting Times
Even when patients are referred by their GP to the hospital they face a long wait. Although NICE guidelines recommend a maximum 18 week waiting period for surgical referral for anyone with a non-urgent complication, the reality is that most patients wait for much longer than this to even see a consultant. Even when they finally get to see their bariatric surgeon, that's far from the end of the road for patients. There are countless hoops to jump through when it comes to finally getting weight loss surgery on the NHS, and there is no guarantee of ever getting surgery at the end of the process.
Many GPs tell their patients upfront about the lack of availability of NHS weight loss surgery and warn them that they'll be waiting a long time for their procedure. However, many patients are still shocked to discover that even after they are referred for surgery, they experience a number of further obstacles and barriers in their way.
Most patients are given a host of lifestyle targets to achieve before even being considered for treatment. These vary depending on the area in which the patient lives, but will usually involve stopping smoking, losing significant amounts of weight and attending dietary and exercise classes.
Usually, patients must have a number of separate interviews with members of the bariatric team as well as the consultant. Dieticians, psychologists and personal trainers are often involved in the process, and this means length waiting times to see each. Often, after these interviews are complete, the patient is enrolled on a weight loss monitoring programme which usually involves attending exercise classes, weigh ins and group sessions. Programmes like this monitor patients for a minimum of six months and, in some parts of the country, for as long as three years before determining whether surgery is a possibility. There have even been reports of patients who have been on such programmes for periods as long as five years, which is clearly not helpful for anyone who suffers from severe obesity.
Attending these programmes can be difficult for patients who need to arrange time off work or childcare for their dependants, and the prospect of making such a major commitment to lifestyle changes with absolutely no guarantee of surgery in the end can be a huge deterrent for anyone seeking help.
Some patients are also obliged to attend courses and treatment programmes to address their mental health before being referred for surgery while others are obliged to undergo a range of other tests including ECGs, blood tests, swabs, sleep apnoea testing and psychiatric assessments before being put onto the waiting list.
The waiting list itself can be incredibly long, so after patients have already waited for a minimum of 6 months and sometimes for as long as five years to finally be put on the list for surgery, they may then face waiting several months or even years more before getting the date for their operation. Unfortunately, even then, it's by no means definite that surgery really will be carried out on that day. All too often, patients receive a letter or telephone call telling them just weeks, days or even hours before they were due to go to the hospital that their surgery won't be taking place on that date at all.
Sometimes, patients have actually been at the hospital, waiting to be taken to surgery before being told that, due to an emergency, their procedure won't be carried out. They then often end up back on the waiting list and have to go back to the waiting game to receive another date and time for their procedure.
As you can imagine, all of this is very stressful and worrying, particularly for patients who suffer from co-morbidities like hypertension or diabetes. Patients who are worried about their long-term health problems and about shortening their lifespan due to their weight problems don't want to wait any longer than they have to for the surgery they require to turn their lives around.
Seeking Alternative Options To NHS Weight Loss Surgery
It's no wonder, when you look at all of the above, that so many patients are seeking alternative options to NHS weight loss surgery. While some give up on the whole idea of getting help altogether, others look into the possibilities of private surgery in the UK. While there are many private clinics in the United Kingdom offering effective weight loss surgery procedures, these are very expensive. While patients can benefit from speedy, high-quality treatment, the high costs involved in seeking private healthcare in the UK make this course of action prohibitive for many patients.
The ideal alternative is to look overseas for weight loss surgery. There are many countries all over the world which offer affordable, high-quality bariatric surgery at a time to suit the patient's needs. Latvia, for example, is one such country which can offer great value weight loss procedures that can help obese patients to lose their excess bodyweight without any delays or hoops to jump through.
For anyone who wants a faster way to address their weight loss surgery needs, clinics like Weight Loss Riga in Riga, Latvia represent the ideal answer, helping those struggling with significant weight problems to get their lives back on track.
If you're considering getting weight loss surgery abroad, let Weight Loss Riga be your site for weight loss surgery at affordable prices. Weight Loss Riga promises to be there every step of the way on the path to getting your life back through weight loss surgery!
Visit our homepage today in order to learn more about our facilities and to schedule a consultation with our patient coordinator, Mim Dickens.
---